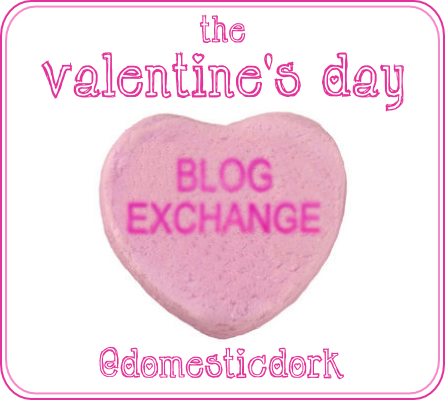 A few weeks ago I discovered a lovely blogger, Holly at Domestic Dork. Holly decided to hold a Valentine's Day Blog Exchange on her blog and I happily signed up to participate. She put us in pairs by geographic region and I was paired with another lovely blogger, Judy at The Green Hanger Shop. Miss Judy and I have so much in common. We both spent years living in the same town where she was a teacher and I was a student. She is retired now, but has started a small business, The Green Hanger Shop, with which she is "Saving the Earth one dress at a time." She has a great business model that helps ladies who want to sell their "wore it once" wedding and party attire find buyers.
Through this blog exchange, Judy and I learned that although we are in different life stages (her two girls are grown while mine are very small), we have very much in common. We both love to read, and while I am learning to sew, she is re-learning! I have to say she is way more advanced than I. Just look at what she made me!
It is a reading pillow that I can use with a book or with my laptop. In fact, I am sitting here on the couch with it right now. She even made it out of my school colors: orange and blue for Clemson University! GO TIGERS!. (Too bad she's a Gamecock fan!)
She was also kind enough to send teddy bears for my Rosebuds, a lavender filled sachet that inserts in one of the pockets of the pillow, and a book, The Miraculous Journey of Edward Tulane by Kate DiCamillo. I am so excited to read this book because I loved another of DiCamillo's books, The Tale of Despereaux.
I am so blessed to have met Miss Judy and I am truly thankful to her for all her lovely gifts. If you want to know what I sent her, please do me a favor and visit her blog. And, if you know anyone who needs to buy or sell a dress, refer them to her.
Happy Valentine's Day Y'all!
Erin