Today I am linking up again with Shell from Things I Can't Say to pour my heart out. If you have something you want to pour your heart out about, write a post and head to Shell's to link up!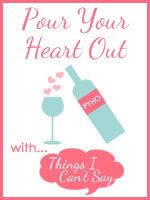 I do not make friends easily. My husband will probably disagree with that statement. But really, I don't. I have friends all over the country due to several moves I have made over the years, but really only two or three that I keep in touch with on a regular basis.
Whenever I move, I find myself faced with the same dilemma. I am lonely, but I hate stepping out of my comfort zone to reach out to others and make new friends. Honestly, I crave having friends. In the last town that we lived in, I had a friend that I could call whenever I was bored or lonely, and she would just say, "Come on over." It didn't matter if her house was dirty or her kids were having a day. I miss her. She made it easy for me to be friends with her.
In the current town where we live, I have made three friends. We have lived there for almost two years. I know more people than that, but only three, maybe four, that I really consider to be friends. I have a hard time opening up and letting other people in. I am self conscious that the other person isn't going to like me, or isn't going to like me as much as I like them.
Isn't that lame?
But guess what I have found. I have found a community in the blogosphere. I have found Shell, and Chelle, and Holly, and Kmama, and Jody, and Cheryl, and Katherine Anne, and Elizabeth, and Melissa, and a whole host of others. I have found these amazing women who read what I have to say and respond back to me about it. They boost my confidence and give me virtual hugs everyday.
Thank you for being my friends. Even those of you who don't leave me comments, thank you for being my friends. Thank you for reading what I write. Thank you for writing your own posts that inspire me to be a better wife, mother, and overall human being.
That is what friendship is about. Being there for each other and helping each other to be better. Even if we haven't met face to face, I consider you all friends. And you can come on over anytime you want. Just scootch the piles of laundry and dirty dishes aside. Cop a squat and let's chat.
I heart you bloggies!
Erin