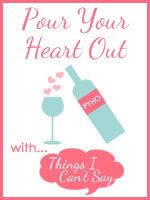 Cancer. It seriously scares me. I'm sure it scares everyone. But it REALLY scares me.
A couple of weeks ago, my best friend from college called me. We were having a normal catch-up kind of conversation when he drops this on me:
Him: "We got some bad news this week." Very matter of fact like.
Me: "What's going on?" With a hint of fear in my voice
Him: "My wife has breast cancer."
Me: "Wait. What? I don't think I heard that right." Kids screaming in the background. Did he really say what I thought he said?
Him "Jen. Has. Breast. Cancer. She found a lump a couple of weeks ago. Turns out it is malignant."
She is 32 years old. I thought this was a concern for older women. Not women the same age as me.
During her lumpectomy last week, they discovered that the cancer had spread to her lymph nodes. That means she will have to do chemo and radiation.
As soon as I heard all this, I immediately internalized it. I feel so badly that my friend and his wife are going through this, but all I could think about was, What if this was me? Mother of a three year old and 10 month old. How would Mr. Rose and I deal with me being a cancer patient. What if I succumbed to this disease and left my children motherless? I don't want my children to grow up without me.
Cancer scares the H E Double Hockey Sticks out of me. What scares you?
Go check out more Pour Your Heart Out posts over at
Things I Can't Say
.