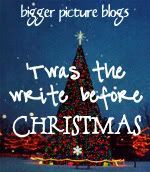 It is the day after Christmas. She looks up from the base of the mountain. She waits in line with others like her, others who are looking to get away from it all. Away from the lights, the noise, the paper, the toys.
Soon, it is her turn. With a clunk and a whirl, she is off. Up, up, up.
Above her is the bluest blue sky she has ever seen. Below her is a myriad of evergreen trees, coated in white fluffy snow. 
At the top, she glides off the lift on skis that swoosh and slide through the six inches of powder that coats the mountain. She takes a moment to get herself together, and then looks around.
Although there are many others there with her, she feels all alone. Alone to marvel at the beauty of the scene, to rejoice in the silence.
She skis down the mountain with only her thoughts and the snow to keep her company. It is a peace that she didn't know could exist amidst the hustle and bustle of the holidays. The constant swish, swoosh, swish, swoosh, is hypnotic.
At the end of the day she is tired and sore, but rested and rejuvenated nonetheless. Now, she is ready to head back to the hustle and bustle. Merry Christmas, indeed.
Erin