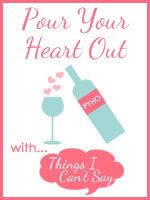 It is no secret that Lil' B has been my "difficult" baby. She was a colicky infant who did not sleep well until she was 10 months old. Now at 16 months, she still does not sleep through the night every night.
Lil' B also had a hard time starting solid foods and is now an extremely picky eater. She is into carbs and butter
(can I blame her?),
but is only patient enough to sit in her high chair for 5 minutes at a time. Hence, there is very little actual eating going on around here.
As far as her weight goes, she has not been on the traditional growth charts for some time now. She is on her own curve below the zero percentile. Last month at her 15 month well check, B did not gain any weight, not even an ounce, in the three months since her 12 month visit.
My normally patient and understanding pediatrician came into our room with a worried look on her face. She started talking about allergy testing, specialist referrals, and endoscopies. "But first, let's try PediaSure. Come back in four weeks, and if she still hasn't gained, it's time for the next step."
I was terrified and cried right there in her office. I did not want to submit my child to a wild goose chase of tests and procedures when all other indicators of her health and development are normal or above normal.
So began the month of November. Every meal and snack was anxiety ridden. Every uneaten bite left on her tray frustrated and worried me. I felt like I was holding my breath the entire month.
Thankfully, she took to the PediaSure, which is God's gift to slow weight gainers, like a champ. I knew that the PediaSure was our only hope.
Yesterday, I took Lil' B for her weight check, and it was good news. Little miss gained a whole pound in a month! She's still not on the traditional growth curve, but she is back on track.
And Mama breathes a huge sigh of relief.