Do you ever wonder if you have made the right choice?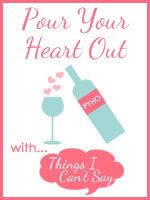 I struck up a conversation with another mom of two young children at the playground yesterday. As we were chatting, she mentioned that she was getting ready to go back to work next month. That, as much as she loved her children and being a mom, she still felt unfulfilled and really needed to get back to her career.
Ouch.
Some days I wonder if staying at home with the kids is the right choice for me. I love my girls, but day in and day out of constant contact with them seems to be taking its toll on me. I have written before that I am an unintentional stay-at-home Mom. I always pictured myself as a work-outside-the-home Mom, but circumstances as they are have led me here.
Sometimes I think, how green is the grass over there at the house with two working parents? Is there more stress from Mom being at work all day, or less from Mom and kids having some space from each other? Because some days, I swear my kids need a break from me as much as I need one from them.
Even as frustrating as the day-to-day minute-by-minute struggles of being a stay-at-home Mom can be, I just can't imagine leaving my kids all day long with someone else. My dream would be to be able to have some very fulfilling, low stress, part time job where I could work from Panera a couple of times a week and take a short trip every now and then. Oh wait, I have that job. It's called Blogging. Except that I'm not getting paid for it. I'll have to work on that....
Linking up with Shell from
Things I Can't Say
for Pour Your Heart Out.