Birthdays are important to me. When I was growing up, I used to look forward to my birthday even more so than Christmas. My birthday was my day. The one day that I got all the attention and special favors from my family. It was, and still is, a day that I am reminded of just how much my family loves me.
Next month, Miss H will be turning four. She has been looking forward to this day since the day after her third birthday. Last year, the girls and I were staying with my parents while Mr. Rose was traveling. Not wanting to burden them any more than I already was, I suggested to Miss H that we have a party at
Chick-Fil-A
with a few of her preschool friends.
We invited five of her classmates and met everyone there. I bought a few kids meals, some cupcakes, and let them have at it. They played in the playspace, sang happy birthday, and opened presents. Easy, peasy.

Miss H and I at her Third Birthday Party
This year is different. This will be her last birthday in this town and I really want her to have a fun time with the friends she will be saying goodbye to in a few short months. We decided on a Candyland (her favorite new game) themed party and came up with a guest list of
fifteen
kids. Oh yes, you read that right. Fifteen.
At the time it sounded like a good idea. As I addressed the invitations last week, I panicked. What was I thinking? I'll have to clean my house and come up with something fun for these kids to do while they are here for two hours. Do I have the space in our house for this?
But when I really think about it, Miss H doesn't care. She just wants to have her friends over to play. I want her to make a memory of the friends that she had while we lived here. I want her to be happy and to have a birthday that she will remember. I want her to know that even though this party will be work for me, that I love her and that her happiness on this day and everyday is all that matters.
So, we'll get some balloons and a cake and decorate our house like Candyland. I'm sure everyone will have a great time and in the end the only thing that matters will be seeing the smile on my baby's face.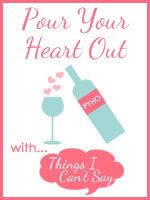 I'm linking up with Shell at
Things I Can't Say
for Pour Your Heart Out. Head on over there and check out some of the other links today!