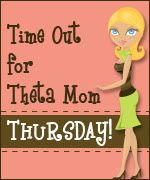 Today I am linking up with Theta Mom's Time Out for Theta Mom Thursday. The challenge, should you choose to accept it, is to spend 1 hour without your kids - taking care of yourself. What a concept! I have to say, I am absolutely terrible at taking time for myself. Right now, my husband is on an extended travel assignment and the Rosebuds and I are staying with my parents so that I have help with the kids. My mom is constantly offering to babysit so that I can do something for myself, but I feel guilty for pawning my children off on her. EVEN THOUGH THAT IS THE WHOLE REASON WE ARE STAYING HERE. What is my problem?
So, I am going to take her up on it. I have a hair appointment to get my hair cut and colored (yes, I have gray hair which you can read more about here.) I even got my trusty pump out this morning to make sure that there will be plenty of milk for Baby B if it takes a little longer than she can go without me. I'll post some before and after pictures in another post.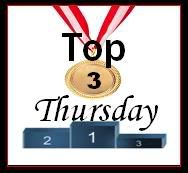 Elizabeth at Confessions From A Working Mom wants to know: What are the Top 3 reasons why you blog? Here I go:
#3 To get things off my chest: More often than not, my blog is an outlet for me to write about what is bothering me or to celebrate something great that happens in my life. Putting myself out there is a new thing for me because I tend to keep everything all bottled up inside and because I am afraid of what people with think of me.
#2 To distribute information: Like I wrote about in my
guest post
yesterday, I used to work in the baby and child industry and I feel like I have a lot of valuable information to pass along to my tens of readers. If I can help one person by something that I write on my blog, I will feel justified in writing.
#1 For the community: In the short amount of time that I have been blogging, I have made some really great connections with other bloggers. Sometimes being a stay-at-home-Mom can feel a bit like being stranded on a deserted island. The girls at SITS call the connections we make in the blogosphere your tribe. I consider the bloggers in my tribe to be the ones who comment on my posts and whose blogs I frequently visit and comment on their posts. We also chat via Twitter and on email. The bloggers who are in my tribe are the ones I feature on my blogroll. I honestly feel that my life has been enriched through these connections and that is the #1 reason why I blog.
Happy Thursday friends...it's almost the weekend!
Erin