My lovely friend Shell, over at Things I Can't Say, started a new carnival today. It's called Pour Your Heart Out.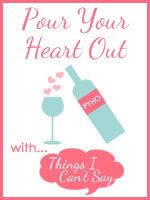 I'm sorry I didn't get this up earlier, but I wanted to support my bloggy friend and I have something I need to get off my chest.
I am worried about my baby.
I know, I know. What Mom doesn't worry about her babies? Perhaps I am a bit neurotic. Perhaps. Maybe I am just in a funky down and out mood. Maybe.
But I am still worried about her.
Let me give you a little history first. Baby B was born a few weeks premature, 35 weeks and 4 days to be exact. Not too early, but early enough to spend a week in the NICU with respiratory distress, jaundice, and learning how to feed and grow. For those of you who haven't experienced having a child in the NICU, it is hell. And my kiddo wasn't nearly as sick as some of the other children in there.
But it is hell, nonetheless. Tubes, monitors, nurses, doctors, people with serious looks on their faces. Never knowing what the next day, hour, or minute will bring. The greatest part of this hell for me is being separated from my baby, from the little human who had been a part of my body growing for all those 35 weeks and 4 days.
Once we got her medical issues under control, we began the feed and grow portion of our stay. Because I wanted to exclusively breastfeed her, I was allowed to stay in the hospital in a room adjoining the NICU. Little Baby B, all 6 pounds of her, did not want to eat, not for long anyway. She would nurse for 7 to 10 minutes and then fall asleep. I worked with nurses and lactaction consultants. Everyone said I was doing fine and to give her time.
After a few days of this, B showed enough progression and weight gain to go home. And now I was really a nervous wreck. My pediatrician assured me the next day when we visited her office that everything was fine. She was doing great.
Everyday I worried, is she eating enough? Is she gaining enough weight? Is she meeting her developmental milestones?
At her four month appointment, we noted that B fell down the growth curve a little from 10th to 6th percentile, but she was still gaining weight. At her six month, she was down to the 3rd percentile.
Developmentally, she rolls over but not as much as Miss H did at this age. She is only sitting up assisted, and doesn't sit well. We have been working on getting her to eat solids for the past three months and she is just now getting the hang of eating. She doesn't eat much of those either.
So that's it. I am worried about my baby. I'm worried that she doesn't eat enough. I'm worried that she doesn't sleep enough. I'm worried that she isn't developing as she should be. Worried. Worried. Worried.
And do you know what's worse? The other moms who ask you how much your baby weighs and what your baby can do to compare their child to yours. Yes, my baby is itty bitty. I get it. No, she can't crawl or sit up or stand yet. Thanks for rubbing it in.
Right after Baby B's six month appointment, I posted a facebook status something to the effect of how little she was and that now I knew what it was like to be the mom of an itty bitty baby. A friend of mine, yes A FRIEND, commented "Isn't she like seven months old now? MY BABY weighed that much at her two month appointment!"
Really, I don't give a flying flip. And no, she is only six months old, five if you adjust for her prematurity. I think Shell has a word for women like her....
Man, it feels good to get that off my chest. Thanks, Shell.
Erin