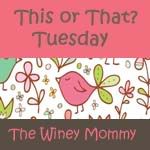 Happy Birthday to me, Happy Birthday to me, Happy Birthday dear Erin, Happy Birthday to me!
Now that we have that out of the way...what? Oh, you want to know how old I am? Let's just say it is the second anniversary of my 16th birthday. Sweet sixteen and never been....well...never mind.
On to the real business of the day! Chelle, one of my best blogging buddies, at The Winey Mommy, wants to know:
Do you prefer to watch movies at home or at the theater?
Because it's my birthday I am going to ride the fence on this one. I love going to the movie theatre where I can get totally lost in the movie and forget about everything else. But, I also love the comfort of my own home. So.....I think this is the best compromise of all.
traditional media room design by los angeles architect KIYOHARA & MOFFITT
A movie theater in my house. How cool would that be? Anyone want to get me one for my birthday? Mr. Rose would love you for it!
Want to read more This or That? Tuesday? Head on over to The Winey Mommy!
Erin