I decided to try something different this Tuesday, so I am linking up with one of my favorite bloggers, Chelle at The Winey Mommy for This or That Tuesday.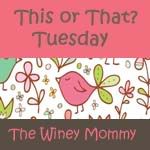 Here is this week's scenario:
You show up at a party of an acquaintance.  It's an evening party and you don't know very many people there. For whatever reason you decide to show up alone--and pray that your friends will indeed make it.
Would you rather show up under dressed or over dressed?
This is a hard one. I think I would rather show up slightly over dressed, as in a cute blouse and skirt, but with comfy shoes like sandals, and maybe some funky jewelry. If people are going to be staring at me wondering who I am, I want them to be thinking, "Wow, she looks great!"
Which would you rather be? Write your own post and then head over to Chelle's to link up!
Erin