Everyone is doing it....I'm a sucker for peer pressure and this just looks like fun. I am relatively new to the twitter game, so I am joining in with SupahMommy to try to increase my twitter twaffic!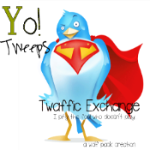 1. Follow me on twitter . Click on my twitter Icon below.
 
2. Shout me a hello on twitter like so: @erinroseberry #yotweeps I'm following! Then I'll know you followed and I'll reciprocate.
3. Want more tweeps? Grab the YO Tweeps Button. Click on the button at the top of this post to get it!

4. Place it on your blog. This helps to BRAND the Exchange so that it is recognizable.


5. Put a twitter icon / link on your blog post.


6. Link that post up over at one of the hosts' blogs.(Click on the YoTweeps button to find one of them!)


7. Visit some other YO Tweeps linkers on the list.


8. Follow them if you choose and shout out to them on twitter that you did.
Erin