i am feeling random. i am in a funk - personally and on this blog. so i am trying something new this week.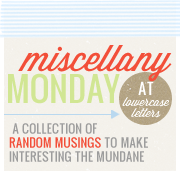 1.
fighting.
i am "in a fight" with my best friend in this town. doesn't that sound so sixth grade? it is. it started over a miscommunication and when i finally started communicating, i actually communicated too much. now she is hurt and i am hurt and i don't know where to go from here. why do we as women do this to ourselves? *sigh*
2. best alone weekend ever.
save for #1 above, the rosebuds and i had a great weekend even with mr. rose being out of town. saturday i had mom's morning out where i ate breakfast out all by myself! (it was glorious.) i got my car washed and vacuumed, filled it up with gas, and made trips to the craft store and grocery store. that afternoon we visited the pool. (hey - if it is going to be 90 degrees out and our pool is still open i am going to embrace it.) sunday brought us to church, cracker barrel, and the gym.
3. consignment sale.
i am getting ready to participate in our local consignment sale as a first time consignor. i really don't have that much to sell, because we are still planning on more kid(s.) but, i really wanted to consign if even just for the experience and to get a pre-sale shopping pass. check back on thursday for my review on how it goes!
4. parents.
my parents are coming to visit this weekend and i am so excited to see them! after living with them for four months earlier this year, i really miss our daily interactions. and i might just have to schedule that massage i have been meaning to get.
so what do you think? totally random, right? head on over to
lowercase letters
for more miscellany monday!
Erin