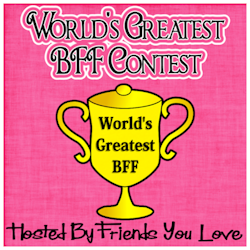 What makes two people become best friends? Is it chemistry? Likeness of attitude? Similar beliefs? It is hard to say. I have a handful of ladies whom I consider to be great friends. Me and my best friend? We just are.
Here are a few things about what makes my best friend the greatest.
Eagerness to help
My best friend is always ready to help. When Miss H was born she drove three hours at the drop of a hat to be by my side. Before Baby B was born, she planned a trip to Florida for a week when Mr. Rose was traveling, just to be here with me. 
Memories
My best friend and I have known each other for a long time - our entire lives. We weren't always friends though. We sort of just existed in the same world passing each other in the hallway without even acknowledging the other's presence.

And then one day, we started hanging out. We got to know each other. We started to create fun memories and sad memories and hilarious memories and serious memories. Memories that bind us to each other to this day.

She was my maid of honor and I was hers. She is my daughter's Godmother and I am her son's. She knows just about every secret I have ever had, and vice-versa.
Insanely silly
My best friend is the craziest person I know. She can have me rolling on the floor laughing (to the point of *almost* peeing in my pants) in an instant. She knows that laughter is the best medicine and can cure all ills.
Love
I love my best friend and she loves me. When my heart breaks, her heart breaks. After I experienced a loss, she cried when I told her over the phone. When my heart soars, her heart soars. She was the first person I told when I found out I was pregnant with Miss H. I'm pretty sure she cried then, too!
Years of putting up with my....
Flaws. I am obsessive, compulsive, Type-A, and controlling. I am sometimes bitter and have a tad of a temper. During my wedding planning, my nickname was Zilla (okay, I wasn't THAT bad.) But honestly, she has put up with my junk for nearly 29 years, just sayin'.
Have you figured out who my best friend is yet?
My sister. She's been there for all the ups, downs, highs, and lows of my life. I love her with my whole heart. "Thank you for being a friend!"
Erin