It is no secret around our house that we are moving in two months. My husband and I are constantly making lists of all the preparations we need to make and working on them. A couple of months ago, we explained to Miss H that we would be moving this summer. We told her that we would have a new house, a new school, and a new church.
What we did not explain to her is that this new house is 1,000 miles away from this one.
She took to the idea pretty easily.
A few weeks ago at bedtime, she asked Mr. Rose a question. "Daddy, when we move to the new house, can we take this blanket with us?" My husband replied, "Of course, sweetie. And do you know what else? We're going to take ALL our stuff with us like your bed and the kitchen table." My four year old beamed at the thought and squealed, "Oh, thank you Daddy!"
When he relayed this story to me, I began to wonder how much she actually grasped about the reality of moving. We "moved" to my parents house for four months last year. Technically, we had a new house, a new school, and a new church. But eventually, we came home. This is probably the reason why she didn't know that we would be taking everything with us to our new house.
The past couple of weeks I have been considering how she is going to do leaving her friends. During the last "move," we wrote letters to her friends and we had a countdown calendar to when we would be seeing her friends again. She is older now and she has made some really close friendships this year. She keeps talking about going to her friend Miss A's house for Halloween and going to Disney World (which is currently right down the road) next Christmas. My quandry has been if I should tell her that she is leaving her friends for good, or just wait for her to make that realization after we have already gone.
Yesterday, on the drive to school Miss H was telling me something about how "after we go on our moving vacation, we can come back to our regular house." I thought, enough is enough, and came out with it.
"Sweetie, you know when we move to the new house with our new school and our new church? Well, we are not going to be coming back here to this house. We won't live here anymore."
The look of pure shock and then overwhelming sadness on her face broke my heart. Her little mouth turned down in that distraught frown and the big tears welled up in her eyes. Finally, the tears and the cries came.
"But, but, but then I will NEVER see my friends AGAIN!"
I reached my hand back to hold her little fingers. I told her that I know it will be sad to leave our friends, but that we could write letters to them and maybe even Skype with some of them. She calmed down more quickly than I thought she would. We dried her tears for the moment, but I am sure there are more to come.
Have you ever had to explain the concept of moving to a young child? How long does it take to really sink in to them? I guess time will only tell us.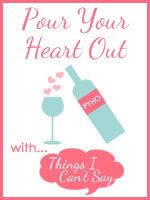 PS - Today is my birthday! Did you see my
Dress Like a Girl Challenge
that I made for myself? Check out all my cute outfits for the week on my
facebook page
. If you want to play along, wear a dress or a skirt today and upload a picture of yourself to the page.