It is getting to be that time. The time in the last few weeks before the move when we begin saying goodbye. I hate saying goodbye. I have never been good at it and I always cry.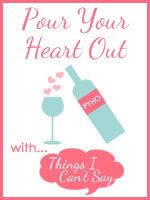 On Monday, our Parents as Teachers consultant came to our house for our last visit with her. We have seen her every month for over a year, but I never felt any strong connection to her personally. As she was leaving our house, she put on her sunglasses really quickly and sort of wiped at her nose. She told me what a great Mom I am and that she knows my girls will grow up to be amazing people. As she walked out the door, I started to cry. This was the first of the lasts, the last time that we will visit with Miss Jean.
Next Monday, we will have our last Kindermusik class with the most wonderful woman, Mrs. Aimee. I met Aimee when we first moved here three years ago. Not only has she been our Kindermusik teacher, but she has also been a sounding board for me when Miss H was going through different phases and when Lil' B was having so many feeding issues. She has picked my brain about marketing for her business, but mostly we have become friends. I can't believe I will be saying "So Long" to her next week. I know for sure that I will cry.
Although I am ready for this move, and excited about it, reflecting on the first of the lasts over the past couple of days has really made me sad. I have made some wonderful connections here and friends that I know I will have for the rest of my life. I think back to all the other friends that I have moved away from in the past: friends in Colorado and North Carolina and South Carolina. I know the sadness will wane. I know that there are new friends to be made and new adventures to be had.
But for now, as I say my goodbyes and my see you laters, I know there will be tears. And I welcome them.