Last month, I wrote about my
birthday challenge
to myself to wear a dress every day for a week. I have to tell you how liberating that experience was for me. For months now, I have felt like I have been in a total wardrobe rut. Jeans, t-shirts, and sneakers or flip flops were my "mom-iform." By challenging myself to wear more dresses and skirts, I actually found clothes in my closet that I had forgotten I even owned. The first day of the week I wore a dress that I have not worn in years. Yes, years. That morning I took the girls to Kindermusik and I was immediately greeted by our teacher with how cute and yet comfortable I looked. What a way to start the week! Not only was it a boost to my confidence and general mood, but in turn I influenced her to break out of her wardrobe routine. Later in the week she posted on my facebook wall a picture of her wearing a dress - how cool is that!
I also had feedback from one of my favorite bloggers, Melissa at
Peanut Butter in my Hair
. Melissa and I both read and
reviewed the book
Didn't I Feed You Yesterday
by Laura Bennett (of Project Runway fame!) last spring. One of the chapters in Laura's book discusses how style is "about making a conscious decision to present yourself in a particular manner." I was fascinated by the fact that even as a mom of six children, she makes it a point to dress up every single day.
Melissa and I were both struck by this particular point in her book, hence Melissa's feedback on my Dress Like a Girl challenge to myself. After several emails back and forth, Melissa and I decided to launch a monthly Dress Like a Girl challenge to our blog readers. Here's how it works:
One day during the month, on a day that you would normally wear your "mom-iform" make a conscious decision to wear a dress and accessorize it accordingly.
Take note of any comments you hear, how it affects your day and any other effects of wearing something out of the norm for you.
Blog about it, grab our Dress Like A Girl button, and then come back here (or Melissa's) on the first Monday of the month to link up your post. There will also be a facebook page and a flickr album to upload pretty pictures of yourself!
Each month we are going to have different ways to challenge you to dress with some style and hopefully we'll have a few giveaways along the way!
Sound like fun? I hope so! Let's go shop our closets and dress like a girl!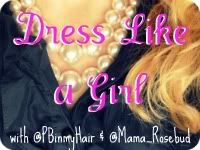 Copy and paste Code