My fellow blogger Shell from Things I Can't Say is hosting a link-up for us to share some of our favorite pictures of our kids as babies. Having baby fever myself, I couldn't resist!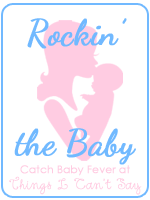 I couldn't choose just one, so here are a few of Miss H (now 4).
3 weeks old, the day we brought her home from the NICU
5 months old and already showing her personality.
9 months old sporting a too-big-for-her-head hair bow.
Here are a few of Lil' B (will be 2 on the 28th):
One week old
4 months old, looking mischievous
9 months old
Now that I am pregnant with my third baby, I am getting so excited to find out what she will look like and to cuddle and snuggle her.
What? I didn't tell you that yet? Yes! We are having another little girl!! Here is a shot of her we got on Monday:
Baby Bud #3, 18 weeks and 4 days.
Erin