Today I am linking up with another one of my best blogging buddies, Shell, from Things I Can't Say. Have you met Shell? She is the bestest! On Wednesdays, Shell likes to pour her heart out. Sometimes it is serious, sometimes it is funny, everytime it is cathartic and cleansing.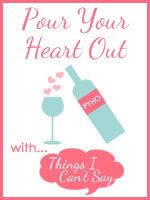 For those of you who don't know, the Rosebuds and I have been staying with my parents for the last almost four months. Mr. Rose has been on an extended overseas travel assignment and I did not think I could handle these two by myself.
Boy, was I ever right. Between the stress of having my husband gone, dealing with Miss H's terrible two's/throttle 'em threes, and Baby B's feeding and sleeping issues, I would just about be in a mental institution right now had I not come.
My parents are the absolute best. There have been breakdowns (on my part) for which they offered a steady hand to help me get through. My Mom has willingly done baby duty one night a week so that I can get some rest. They have babysat for free while I got my hair done, saw a movie, or just went to church by myself.
But alas, all good things must come to an end. Right now I am preparing us to go home at the end of April. A mere two weeks from today, we will pack up and caravan home. It is so bittersweet for me because I have loved being back in my hometown with my parents, brother, and sister, but I am SO ready for Mr. Rose to be home and for our family to be back together again.
There are no words for how grateful I am to my parents for everything they have done for me. I know that they are going to be very sad to see their girls go, and I am sad for that as well. Like I said, bittersweet.
I hope they know how much I appreciate them and how much I have loved being here. I guess I'll have to tell them.
Erin